bMobile™ Technology provides business software for mobile invoicing, mobile service, sales force automation, route accounting and wholesale distribution. See greater business efficiency, reduced costs, happier employees and more satisfied customers using the latest in mobile computer business technology. From across town or across the country, be connected, be in control with bMobile Technology.
Route Manager
Route MANAGER is designed for the demanding needs of route sales, wholesale distribution and direct store delivery MANAGER controls mobile inventory, route sales, route deliveries and manages route costs for food and beverage distribution and other demanding mobile industries.
Basic Sales
bMobile SALES is a Mobile order entry and account management system. SALES is designed for field sales, mobile service, tradeshow and event sales.
Compare these two products and see which one better fulfills your needs.
Route Manager Demo
The Welcome Screen is where the drivers select the functions that they would like to perform. They can get their beginning data through Start of Day, start the Delivery, take PreSales orders, Review their existing orders, complete the End of Day settlement, or run Reports about their routes.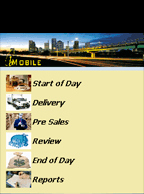 How it works
NO MORE HASSLES WITH HANDWRITTEN ORDERS
The mobile sales system integrates data with QuickBooks Pro, QuickBooks Premier and QuickBooks Enterprise, eliminating redundant data entry of mobile sales invoices. Designed for use with low-cost Pocket PCs or rugged handheld mobile computers, bMobile is a sales automation system for even the tightest budgets. Reduce your operational costs by increasing the efficiency of your outside sales staff, delivery personnel and field service technicians with cutting edge, sales force automation technology — now designed for QuickBooks.
Watch a demo Movie about bMobile